Deborah Perryman says...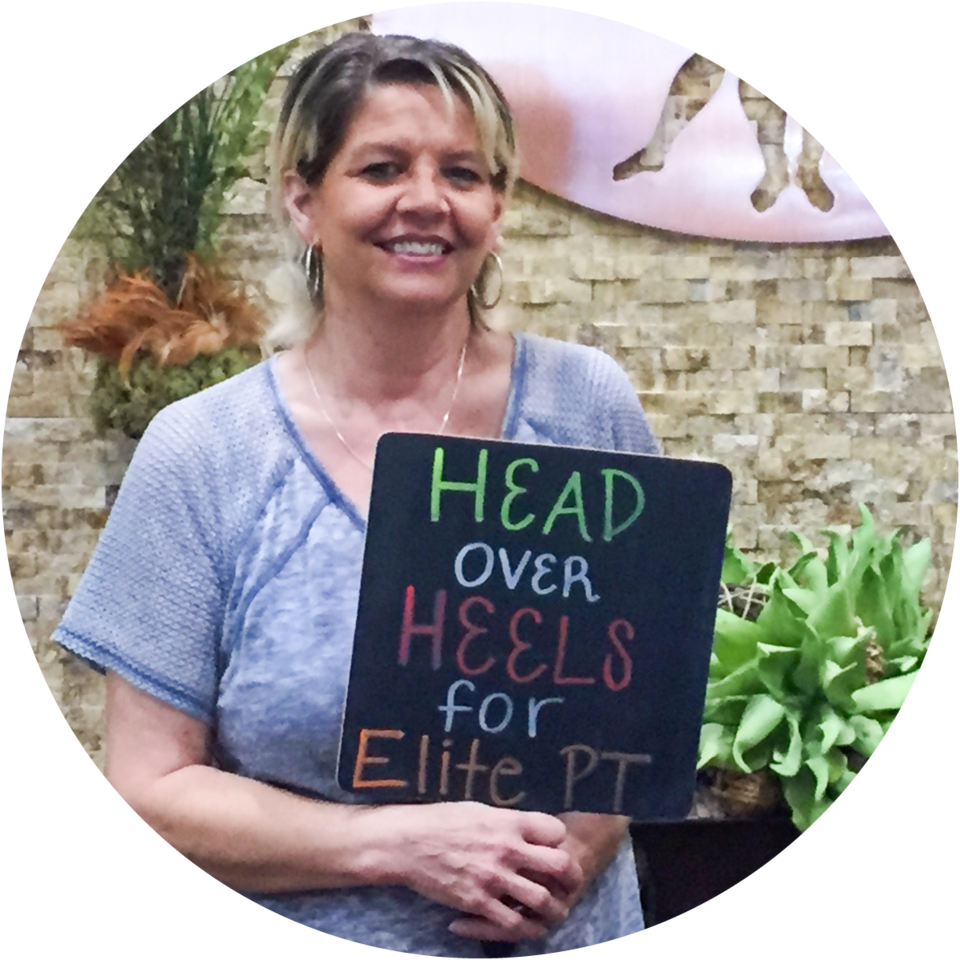 Some of you may know me; and some may not. I just wanted to take the time to share with you; my time at Elite Physical Therapy.   Approximately three years ago I was involved in a terrible car accident.  I do not remember anything about the accident due to the damage I suffered at the initial contact of the accident.  I was severely wounded and was life-flighted from the scene of the accident.  I was flown to Vanderbilt UMC and immediately operated on.  There was an eight inch  diameter blood clot on my brain in addition to a host of other problems that I would experience in days, weeks and months to come.  Throughout this journey I was introduced to more of the medical field than I would have ever dreamt. As the days weeks and months passed I made it to a time in this journey where I, along with lots of doctors help would finally narrow the problems down to being able to fix/manage the areas of concern so that I could be put back into the real world and be able to function as normally as possible. Some of the  worst experiences I had are what they  (doctors) referred to as BPPV and some pretty tough Balance troubles. I elected to visit  ElitePT to  hopefully get me the help I needed.   They helped me attack the BPPV  problem first.   Within a few weeks I was shocked at  the difference in daily life that I was experiencing.  Then, BAM, another issue brought forth and that was my balance problems.  The staff at ElitePT are some really great people.  They might not think they do; but this group of PT's  as well as the rest of the staff love their jobs.  They have  So much knowledge.  They take the time to explain what is wrong and why it is happening the way it is.  It is now time to tackle the balance problems.  When you can't walk for falling or walking into doorways it's time to take charge. And, that they did.  The EPT team took time to listen to what was wrong and would lead me down the road to recovery.  Through my "Get Up and Get At It" attitude and their knowledge and the visible ability to want to Help Me; They Did It.

To My EPT Family:  "My cup Runneth Over"  Words alone can't begin to describe the appreciation I have for each and every one of you. The love and commitment you all have for your positions is very obvious.  Again, Thank Each And Every One of You.  Gonna miss yall.
Jimmy Nowlin says...
I loved the Anti-gravity Treadmill the best! Makes it so easy to walk! If everybody had this treadmill at home, everyone would be in better shape. Thanks Elite !
Mark Kincaid says...
My physical therapy experience at Elite has been nothing short of exceptional. The progress we've made together in such a short time is more than I could ask for and the professionalism of the staff made me comfortable from the start. The great relationships I've made with everyone there makes me look forward to each session, thanks for the great work you do.
Thanks to Elite! My experience has been awesome from the staff and progress was amazing! Strongly recommend .
I came to Elite Physical Therapy for rehab on my shoulder. Everyone at Elite

were

very Professional and they helped me to regain my mobility and my strength pretty quickly. I would definitely recommend Elite Physical Therapy & Balance Center and I feel like I made some very good life-long friends. Everyone was great! Keep up the good work.